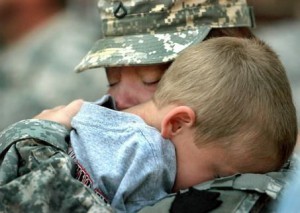 Today is Veterans Day. It honors America's current and former military men and women. To say that these people are special is just not enough. They are self-less, united and proudly provide all of us with the freedom and safety we take for granted. Every day.
As a business traveler, I see them at the airport and on airplanes every week.
I watch them say goodbye to their families. I watch young children grab on to their legs, crying, not wanting to ever let go. I watch tears pour down the face of their spouse who prays this won't be the last time they see their other half, the love of their life and best friend. For they all know and live with the fear, emptiness and uncertainty of tomorrow.
It is heart-breaking to watch and it always puts tears in my eyes and a lump in my throat because I can't imagine the courage it must take to walk away from each other.
Today is for them. All we have to do is support and pray for them. All of them.
Perhaps one day we can idolize them as much as we lift up professional athletes and celebrities.
This entry was posted on Sunday, November 11th, 2018 at 10:44 pm and is filed under Uncategorized. You can follow any responses to this entry through the RSS 2.0 feed. You can leave a response, or trackback from your own site.