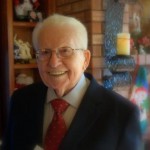 I went to a funeral this morning. Wilburn Davis was 105.  That's a lot of years.
Still, no matter how long we live, it does end. So, love fiercely.  It's the only thing we truly leave behind.
Wilburn sure did.
This entry was posted on Saturday, June 3rd, 2017 at 9:42 pm and is filed under Uncategorized. You can follow any responses to this entry through the RSS 2.0 feed. You can leave a response, or trackback from your own site.