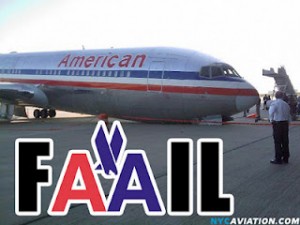 I have two very, very close friends at American Airlines and I am certain that this story will offend both of them greatly.  But, it needs to be told.  I am
a travel warrior.  I have flown over 5,000,000 miles on AA. I thought I had seen it all after some 22 years of flying until early Tuesday evening.  As I was walking off my airplane in Las Vegas, I saw a young 18 or 19 year-old girl running to the jet bridge door at the next gate for her departing flight to Chicago. She was late.  As soon as she got there, the gate agent closed the door right in front of her without saying a word — not a word — and just walked away.  The young girl broke down crying and pleaded with the gate agent who never even looked back or acknowledged her.
I stood there in disbelief.  How heartless and mean-spirited can a human being be?  How can a "service" agent care so little about service?  How can an employee hate their job and people so much?  Two complete strangers walked over to the young girl and tried to comfort her. She was hysterical as she was headed to her father's funeral just outside of Chicago and had now missed her flight.  Then, they did what the AA gate agent should have done:
They helped her!  The strangers — not American Airlines.
If there were ever a time and place AA employees should be helping people it is now in the darkness of bankruptcy.  I completely understand that you must get to the gate on-time, no exceptions, but in this case it was the rude, Christ-less, and unforgiving bitterness of an AA employee that was so ugly and wrong.
I salute the two strangers who helped the girl get on another flight so she could bury her father the following day.  I deplore this service agent and so many like her today.  They are angry and cruel. I waited there for 17 minutes before the plane headed to Chicago pushed back from the gate.  I have six children aged 15 to 23.  That young girl in Las Vegas could have been one of mine, and the thought of what an American Airline employee did on Tuesday to a grieving young woman makes me want to never fly AA again.
When people stop caring about others, we are no more than animals in the wild.  When employees stop caring about customers, the business value equation weakens.  At American Airlines, it is DOA.
This entry was posted on Saturday, June 16th, 2012 at 8:47 pm and is filed under Branding. You can follow any responses to this entry through the RSS 2.0 feed. You can leave a response, or trackback from your own site.