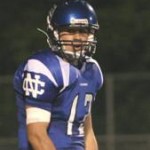 Robert Ratliff is 22 years old.  I have known him for nearly all of them.  I watched him learn to play baseball and earn his way into the Little League World Series when he was 12 years old.  I watched him bury his father (and my dear friend) the following spring.  I watched him learn to play football and at quarterback lead Nolan Catholic High School to the State Championship — a big deal in Texas football land.  And, I watched his disappointment when college recruiters didn't call.
Through it all, all of it, Robert did not quit.  He never felt sorry for himself. He never stopped believing.  Never.
Two weeks ago his mother, Patti, his rock and his everything suffered a tragic brain aneurysm. She is still in ICU and critical condition.  Robert and brother John have been at her side ever since.  Last night, they returned to Oxford.   The first day of classes are on Monday – Robert is a senior and John is a sophomore.  Both are walk-on football players at Ole Miss.  Robert is a quarterback and John is a wide receiver.
This morning they attended a team football meeting and practice.  At the end of the team meeting, Ole Miss Head Coach Hugh Freeze asked Robert to stand up.  Time stood still for a few seconds and then it happened.
He awarded Robert Ratliff a Division I Football Scholarship for his senior season.  A dream come true.
In God's glory, he has walked through life, step-by-step, with an unyielding commitment to being "the very best he can be."  He is not the tallest or fastest guy on the field – ever.  But, this young man's heart is unmatched.  His  passion for competition and victory burns deeply.  His love for coaches and teammates is true.
In so many ways, Robert Ratliff is a champion and a role model to all of us.  For more than six years he was told he couldn't play D1 football.  But, for six years Robert believed.  Believed in God.  Believed in himself.  Believed in what his dad had always told him – "You Gotta Believe."
Robert Ratliff,  we all congratulate you.  We salute you.  We are in awe of you.  We love and adore you.  We believe in you.
And, no one believes in you more than your mother, our Patti.
And his journey is just beginning.
This entry was posted on Saturday, August 18th, 2012 at 3:21 pm and is filed under Leadership, Uncategorized. You can follow any responses to this entry through the RSS 2.0 feed. You can leave a response, or trackback from your own site.