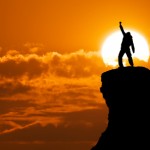 So, you wanna be successful, huh?
Dream big. Nothing is out of reach.
Don't dim your light, simply because it's shining in their eyes.
Never yield to those who say it cannot be done.
If you believe in yourself, no one can stop you.  No one.
This entry was posted on Friday, May 31st, 2013 at 4:16 pm and is filed under Leadership. You can follow any responses to this entry through the RSS 2.0 feed. You can leave a response, or trackback from your own site.